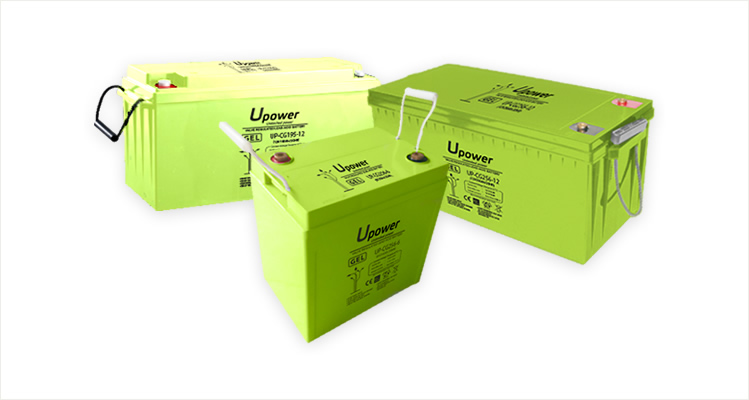 Carbon Gel
Better performance than GEL and AGM batteries.
Thick plates and high density active material.
Safe construction that accepts strong vibrations.
Sealed and safe from spillage.
5 times faster charging time.
5 times longer charge and discharge cycles than AGM batteries.
Very low self-discharge, allowing long periods of storage without charging.
Excellent recovery from deep discharge.
Longer life in deep cycle applications.
Longer life expectancy than AGM batteries: 6 to 10 years (depending on conditions of use).
High specific power and ability to deliver very high currents.
Less degradation at high temperatures and good performance at low temperatures.
SOLUTIONS
+

THINK

+

CONSTRUCT
Main uses
Renewable Energy System
Hybrid Solar Power System
Uninterrupted Power Supply (UPS)
Communicartions and Electric
Equipment
Emergency Lighting Equipment
Fire Alarm and Security Systems
Robots, Control Equipment, and
Factory Automation Equipment
Emergency Power supply (EPS)
Various Power Toys
Lighting Equipment
etc ...
Specifications
Model
Nominal
Voltage (V)
Capacity
(20H)
Capacity
(100H)
Length
(mm/inch)
Width
(mm/inch)
Height
(mm/inch)
Weight
(kg)
Terminal
Data Sheet
(PDF)
UP-CG256-6
6
256
320
260 / 10.24
180 / 7.09
275 / 10.83
35
M8
UP-CG200-8
8
200
236
260 / 10.24
180 / 7.09
275 / 10.83
35
M8
UP-CG18-12
12
18
21
151 / 5.94
99 / 3.90
104 /4.09
4.2
F2
UP-CG30-12
12
30
35
181 / 7.13
76 / 2.99
170 / 6.69
6.8
T5
UP-CG45-12
12
45
55
195 / 7.68
130 / 5.12
180 / 7.09
11.6
M5
UP-CG55-12
12
55
65
197 / 7.76
165 / 6.50
175 / 6.89
15.3
M6
UP-CG80-12
12
80
95
262 / 10.31
165 / 6.50
170 / 6.69
20.0
M6
UP-CG85-12
12
85
105
350 / 13.78
166 / 6.54
179 / 7.05
22.0
M6
UP-CG100-12
12
100
125
260 / 10.24
166 / 6.54
216 / 8.50
26.0
M6
UP-CG120-12
12
120
150
331 / 13.03
171 / 6.73
214 / 8.43
31.5
M8
UP-CG150-12
12
150
185
406 / 15.98
174 / 6.85
216 / 8.50
37.7
M8
UP-CG170-12
12
170
215
341 / 13.43
173 / 6.81
281 / 11.06
46.0
M8
UP-CG200-12
12
200
240
485 / 19.09
172 / 6.77
240 / 9.45
46.0
M8
UP-CG256-12
12
256
320
522 / 20.55
238 / 9.37
223 / 8.78
64.0
M8