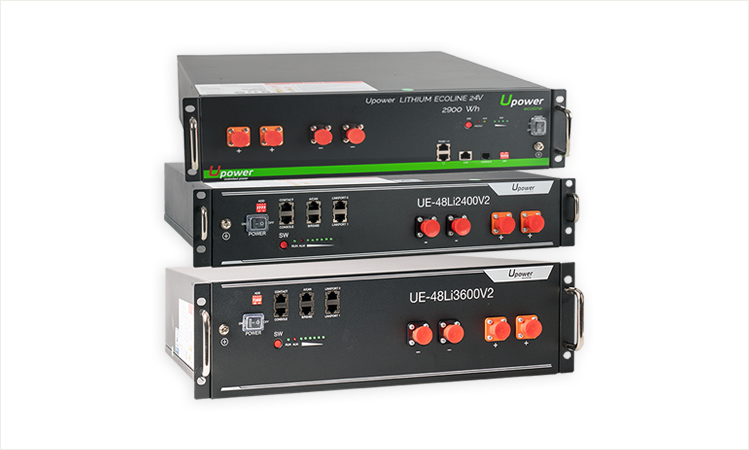 Features
With more than 1GWh products been commissioned in 30 countries, Upower Ecoline is proudly contributing our strength in changing the way people generating, transferring and using the energy.
UE-H series is an ideal solution for residential storage applications, with standard 48V/50AH specification, up to 90% usable capacity and 4,500 cycle-life warranty.
Safety Cert.TüV CE UN38.3.
Advantages
LFP cell inside enable longest life and highest safety.
Self-designed BMS protects the cell in abnormal temperature, current, voltage, SoC, SoH.
Vertical industry integration ensures more than 6000 cycles with 90% DoD.
Modular design gives the end customers the power of choice of capacity.
Compatible with most of the available Hybrid inverters.
Simple buckle fixing minimize the installation time and cost.
Important notice
The recommended charge/discharge capacity of these batteries is 0.5C (25 or 37 Amp depending on the model), allowing a capacity of 1C (50 or 75 Amp depending on the model), and a maximum charge/discharge capacity of 90/100 Amp in (depending on the model), for a maximum of 15 seconds, using them above the indicated values will immediately void the warranty.
Please pay special attention to the dimensioning of the installation.
In the case of connecting the batteries with an equipment that does not have, or is not configured in lithium mode, the maximum charge/discharge will not be higher than 10A, being out of any guarantee if this value is exceeded.
Warranty
To obtain the warranty, the following requirements must be met: the battery must not be discharged with a current greater than 25A/37A depending on the model.
The sizing of the battery modules must be in accordance with the power of the inverter, improper operation voids the warranty, as the 25A/37A supplied by each module is exceeded.
Specifications
Model
Nominal
Voltage
(V)
Nomimal
Capacity
(Wh)
Maximum
Charge
Current
(A)
Dimensions
Weight
(Kg)
Product
Manual
(PDF)
Material Safety
Data Sheet
(PDF)
Data
Sheet
(PDF)
Communication
Settings
(PDF)
Length
(mm)
Width
(mm)
Height
(mm)
UE-24Li2900WH
24
2900
85
442
420
120
26.5
--
UE-48Li2400WH
48
2400
50
440
410
88.5
24.0
--
UE-48Li3600WH
48
3552
74
442
420
132
31.0
--
UE-H-HUB
48
--
--
442
150
44
3.5
--
--
--
UE-48Li2400V2
48
2400
50
442
410
89
24.0
UE-48Li3600V2
48
3552
74
442
420
132
37.0
UE-48Li5000V2
48
4800
74 ~ 89
442
420
165
40.0
--
--
--