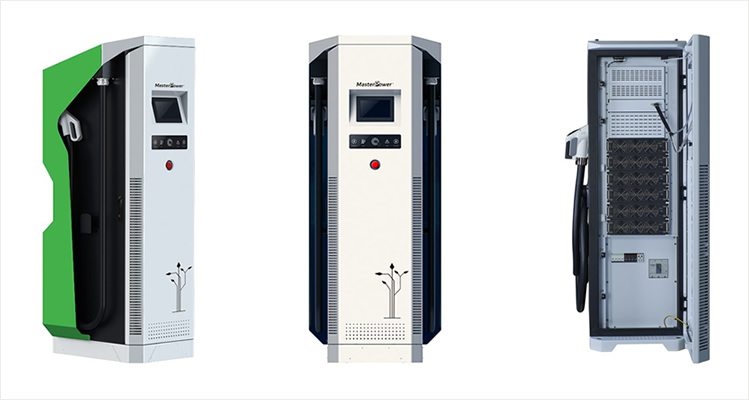 Electric Vehicles Series
Smart DC Charger is a high power charger with dual output and dual charge, handing out the loads, suitable for CBD or public areas. The product consists of human-machine interaction part, power module, internal control system, communication module and charging cable assembly.
Main Features
• It is modular and can be expanded without changing the cabinet.
• This charger allows simultaneous charging of 2 vehicles by distribution the charging power.
• Communication: OCPP 1.6 - Open Charge Point Protocol.
• Composed of charging module, power interface, charging interface, protection module,
control module, measuring module, HMI, cabinet, etc.
• Charging management function, HMI can display charging mode, charging current, charging
voltage, charging time and account information.
• The charger can dynamically adjust the charging mode according to BMS charging voltage
and current character. The charging output is adjusted by the request of BMS, when the
charging current requested is larger than the current output range in constant power charging
mode, the charging current should output according to the maximum allowable current value
of the charger.
• Intelligent power distribution function, in case of fault of individual module, the module can be
separated without of affecting the normal operation of the charger.
SOLUTIONS
+

THINK

+

CONSTRUCT
Advantages
Easy Maintenance
System Power Module
Controller Module
Power Allocation Module
AC-DC Power Module
Automatic ECO, Energy saving
de Energía< 5W
APP (Controller)
Module Remote Upgrade Function
Remote Diagnosis Function
Original CHAdeMO & CCS
de EnergíaController
4 sets Axial Fan
Replaceable Filter

Specifications
MODEL
60 kW
120 kW
150 kW
Dimensions (L x W x H)
750 x 530 x 1685 mm
Weight
275 kg
310 kg
328 kg
Input Voltage
3 - Phase 380 VAC ± 15% (3 Ph + N + G)
Maximum Input Current
118 A
225 A
278 A
Input Frequency
50 ~ 60 Hz
Input THDi
≤ 5%
Input Power Factor
> 0.99 at a nominal output power
Output Current Range (Two output)
2 ~ 100 A
2 ~ 200 A
2 ~ 250 A
Output Voltage Range
DC 200 ~ 750V (DC 600 ~ 750V in Constant Power Mode)
Power Module
30 kW x 2 pcs
30 kW x 4 pcs
30 kW x 5 pcs
Efficiency
> 94%
Module Output Current Unbalance
< 5%
Module Output Voltage Ripple
< 0.5
Module Output Voltage Precision
< 0.5%
Module Output Current Precision
< 1%
Enclosure Rating
IP54
Operational Temperature Range
-25°C to 50°C
Altitude
< 2000 m
Operational Humidity Range
0% to 95% no-condensing
Noise
< 65 dB
Connector Communication Mode
In accordance with DIN 70121 and ISO 15118 standard
Connector Interface and Standard
CCS2 (IEC 61851-23) and CHAdeMO 1.0
Cable Assembly Length
5 m
Connector Output
Maximum Single Mode
CCS2 (60kW)
CHAdeMO (50kW)
CCS2 (120kW)
CHAdeMO (50kW)
CCS2 (150kW)
CHAdeMO (50kW)
Maximum Double Mode
CCS2 (30kW)
CHAdeMO (25kW)
CCS2 (60kW)
CHAdeMO (50kW)
CCS2 (90kW)
CHAdeMO (50kW)
Platform Communication
OCPP 1.6
Network Connection
LAN; GPRS 3G / 4G Option
Authentication Method
RFID / QR-code / Remote command
User Interface
7- inch HD screen
Power Distribution
Single Plug Mode / Average Output Mode
Safe Charging Mode
Smart charging mode to prevent the misoperation of human factor
Interlock
The interlock between the charger and BMS
Interface Safety Protection
Circuit discharge function, Insulation monitoring device (IMD), Battery reverse connection protection
Emergency Stop
Disconnect the charger and EV to prevent emergency incidents
Charger Safety Protection
Over / Under voltage, Overload, Output power limit function, Short Circuit, Anti-access,
Earth Leakage, Lightning, Overheat protection
Technical Standards
IEC 61851-1-2011, IEC 61851-23-2014, IEC 61851-24-2014,
IEC 62196-3-2014, ISO15118-2-2014, DIN 70121-2014
Product specifications are subject to change without further notice.