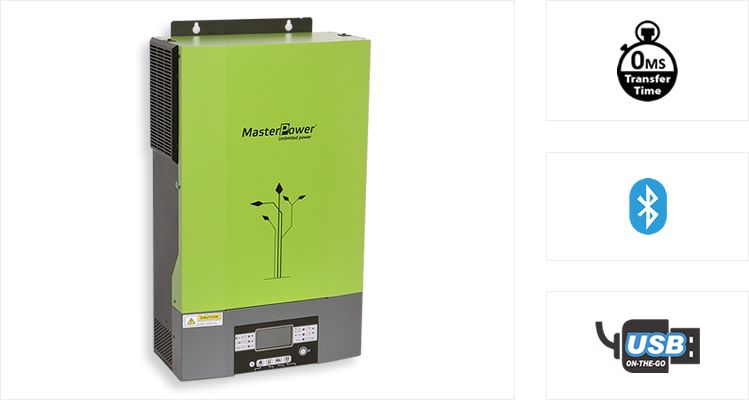 OMEGA X Series
Main Features
Zero (0ms) transfer time to protect mission-critical loads such as servers and ATMs.
Removable LCD control module with multiple communications.
Built-in Bluetooth for mobile monitoring (Android App is available).
Supports USB On-the-Go function.
Reserved communication port for BMS (RS485, CAN-BUS or RS232).
Configurable AC/PV output usage timer and prioritization.
Pure sine wave solar inverter.
Selectable high power charging current.
Wide DC input range.
Compatible with mains voltage or generator power.
Auto restart while AC is recovering.
Overload and short circuit protection.
Smart Battery charger design to optimize the battery's performance.
Cold start function.
Optional parallel operation up to 9 units.
Specifications
MODEL
Omega X 3K-24
Omega X 5K-48
DATA SHEET
Rated Power
3000 VA / 3000 W
5000 VA / 5000 W
Parallel Capability
Up to 9 units
INPUT
Voltage
230 VAC
Voltage Range
110 - 280 VAC
Frequency Range
50 / 60 Hz (Auto sensing)
OUTPUT
AC Voltage Regulation
230 VAC ± 5%
Output THDv
≤ 3% for linear load, ≤ 8% for non-linear load
Surge Power
6000 VA for 5 sec
10000 VA for 5 sec
Efficiency (Peak)
93% at Line Mode, 90% at Battery Mode
Transfer Time
0 ms
Waveform
Pure sine wave
BATTERY
Battery Voltage
24 VDC
48 VDC
Floating Charge Voltage
27 VDC
54 VDC
Overcharge Protection
34 VDC
66 VDC
SOLAR CHARGER & AC CHARGER
Solar Charger Type
MPPT
Maximum PV Array Open Circuit Voltage
145 VDC
Maximum PV Array Power
1500 W
4000 W
MPPT Range @ Operating Voltage
30 ~ 115 VDC
60 ~ 115 VDC
Maximum Solar Charge Current
60 A
80 A
Maximum AC Charge Current
60 A
Maximum Charge Current
120 A
140 A
PHYSICAL
Dimension, D x W x H (mm)
140 x 303 x 525
Net Weight (kgs)
13.0
13.5
Communication Interface
USB / RS232 / RS485 / Bluetooth / Dry-contact
ENVIRONMENT
Humidity
5% to 95% Relative Humidity (Non-condensing)
Operating Temperature
0°C to 55°C
Storage Temperature
-15°C to 60°C
Product specifications are subject to change without further notice.